I have been up close – very close – with the Queen of England, Elizabeth 11. I didn't actually speak with her. I wasn't allowed to converse with her. But I hung on her every word and furiously jotted down everything she said into my notebook.
I used to trot out the story of this encounter when I was at the hairdressers. How often, when you're having a haircut, are you asked 'So, what do you do?' These days my answer is 'retired' and there's rarely a followup question – the conversation veers off to other subjects. Retired people, it seems, are not interesting and few people know how I crossed paths with the Queen and other rather well known people in my life's journey.
It wasn't always so. Before retirement, my answer in the hair salon was 'I'm a News Radio and Television Journalist', eliciting excited responses and almost always 'Oh, what famous people have you interviewed?' Well, quite a few actually.
Let me be clear. I was not a celebrity Journalist – more your run of the mill newsroom 'journeyman' – or in my case 'woman'. A hack reporter. No one recognised me in the street. And, as a hard News Journalist, my usual line of reporting involved people only known in my little backyard of the world. But I occasionally crossed paths with internationally famous people visiting Australia because they were newsworthy, and I'd be assigned to their media conferences. Sometimes I had an interview to myself – one on one – sometimes I'd be in the media mob.
Should I start then with my trump card, Her Royal Majesty, Elizabeth 11 of the United Kingdom and Commonwealth?
The Queen was on an official tour of the Australian island State, Tasmania, in March 1977 (a link to the travel theme for this travel blog! LOL).
I had recently arrived back in the capital, Hobart, resuming my career with the Australian Broadcasting Commission Newsroom after a year's leave of absence travelling on the other side of the globe.
The Queen was scheduled to meet representatives of schools and youth organisations on the lawns of Tasmania's Government House. And I was assigned to shadow Her Majesty as she moved around a circle of young people. I was the only reporter to be given the gig, although at least one official photographer was also present. So there we were – Elizabeth and I, matching footsteps as she did her walkabout. She on the inside of the circular line of a line of excited school children, me on the outside of the line. My job was to record in my notebook every word she said and, of course, the questions the children asked of her. You can't see me in the media photo below, but I was there just out of range of the shot.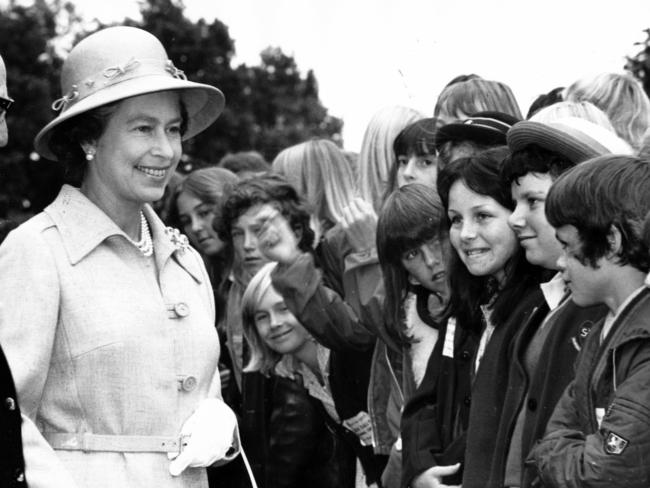 It's the only assignment where I've taken extra special care with my appearance, buying a new outfit especially for the occasion – a stylish upmarket and costly Australian designer Adam Bennett suit – an exquisitely tailored pinstripe blazer with a matching skirt, styled with a silk blouse and a fawn felt hat. Coincidently, it was the same outfit, minus the hat, I was wearing when I met my husband a few years later – perhaps he sensed my royal connection?
Of course, I couldn't match the Queen's elegance – a light blue dress coat, nipped into her tiny waist by a narrow belt, white gloves, a white handbag delicately hung over her arm, pearl earrings and matching three strand pearl necklace. A big impressive brooch on her lapel. My hat coincidently was exactly the same design as the Queen's, without the little bows on the band! It's the only formal hat I've ever bought, and that was the only occasion it had an outing!
I was not permitted to interact with the Queen in any other way. No interview. No tape recorder allowed. But I could jot down in my reporter's note pad everything she said to use later for a news story. My notes had to be shared with other media sources afterwards.
So round and round she went, not appearing to notice me at all – though she clearly knew I was there as we moved across the Government house lawn, like dancers in unison, only a few feet from each other. If Covid was around, I might have whispered quietly – 1.5 metres Ma'am – you have to stay 1.5 metres from me!
Finally, she came to the end of the line and my job was done – apart from going back to the newsroom to write up the story. And then it happened – at the very last minute – royal recognition and what seemed to me appreciation that I had followed the Royal rules.
She looked up directly at me – eyes locking eyes, and then gifted me a beaming smile. There was no one next to me. This Royal smile was mine.
The Queen was in her 40's. No longer a young woman. But, in my surprise at her kind acknowledgement, I saw that she was beautiful. A classic english complexion, stunning blue eyes, and that smile. Dazzling. I needed nothing more. As an Australian, I am not a Royalist – but Queen Elizabeth has my respect and adoration.
Prince Phillip
I did not get a smile from the Queen's husband, Prince Phillip, even though I adhered to the rules laid out for interviewing him! In 1979, he visited Western Australia to preside over a the Royal Agricultural Society of the Commonwealth Conference. Media were were invited into a conference room at the Royal Showgrounds in Perth to interview him.
I had recently moved to WA and joined a throng of reporters around a massive wooden dining table with the Prince at the head of the table. Again, I was representing the ABC newsroom.
As we arrived, officials informed us that the Prince, on a solo visit to Western Australia, would only answer agricultural questions. No other questions were allowed. We were told that he was well versed in agricultural matters as he was, after-all, a farmer! If you've ever imagined a bunch of Journalists stunned by a meteor hit, this was it!
There was a lot of head shaking and collective 'Are you kidding' mutterings from us all. How were we going to get a good news story from this! We didn't think the Australian public was very interested in what the Royal farmer had to say about agriculture. Had it been a few years later, as the Conservation movement gained momentum, we might have teased him into saying something newsworthy. Even Charles at that time, with his already known eco views, would have hit the headlines. But not Phillip. The idea of Australians involved in agriculture taking on board the views of this rich English royal 'farmer' did not fly! I can imagine my farming brother in law, Thommo, muttering "Yep, well, bring him on down to Wagin to muck in with the sheep shearing and I'll have a yarn about hard farming yakka over a sausage sizzle with him." Phillip might have actually found that a bit more interesting than our controlled staid media conference.
So, there we were, a gaggle of frustrated news hounds around the dining table – me about half way along, on the left of the Prince. Questions of an agricultural nature were fired off – not a lot of enthusiasm loaded with them. And then, suddenly, one brave soul sitting near me wandered out of the paddock with a question that had absolutely nothing to do with agriculture.
The Prince starred directly at this reporter and held his gaze with an iron grip. If the Royal eyes could have fired lasers, that reporter would have vaporised on the spot. There was absolute silence. An uncomfortable silence. You could have heard a pin drop as we silently squirmed in our seats.
Then the Prince's head suddenly swivelled to the other side of the table as he firmly uttered "Next", prompting another agricultural question.
Minutes later a further attempt to escape agriculture by another reporter. And once more the room froze as the Prince sternly stared at the Journalist for what seemed like an age, but was probably only about 30 seconds. Again, he abruptly turned to the other side of the table, thundering out "Next!"
The story, in the end, was that the Prince would only talk about agricultural issues on his visit. It was well buried in the news bulletin.
Crossing paths with other famous people
The Royal Couple as my Ace is not my only card. I have a small bundle in my celebrity pack including four Australian Prime Ministers – Bob Hawke, Gough Whitlam, Malcolm Fraser and John Howard – a bevy of State Premiers and Opposition Leaders and some genuine international celebrities.
Sir Paul McCartney – very late to a media conference with no apology. Ruined my opportunity to impress my son with the highlights of a career in Journalism!
Vincent Price – Old time, very gracious Hollywood movie star and the Voice in Michael Jackson's Thriller. A gentleman. Super nice.
Fred McMurray – 1930's American movie star and later lead in the long running Television series, My Three Sons. He seemed to be in a grumpy mood for my interview – harder to get answers than drawing teeth.
Stewart Granger – a major leading British film actor from 1940's to the 1960's – one of his wives was well known British Actress and Academy Award nominee Jean Simmons. A lonely elderly figure, selling his book in a department store when I interviewed him.
Eric Sykes and Jimmy Edwards – the wonderful British comedians so brilliant at ad libbing. I laughed so much, they took over my questioning and interviewed themselves!
Sir Richard Todd – 1950's Irish/British major movie star – genuinely nice man with style. In Tasmania for a play and I interviewed him at the 1800's Theatre Royal in Hobart.
Britt Eckland – Swedish actress, James Bond girl, former wife of Peter Sellers and former girlfriend of Rod Stewart. Prima Donna for my interview. Loads of make-up and kept me waiting almost as long as Paul McCartney!
Eartha Kitt – the superb American sultry singer, actress, super intelligent and a political activist. My all time favourite 'star' interview. An absolute pleasure to meet her in person. A great sense of humour. I will be a fan forever.
Honor Blackman – the highly talented British Actress whose stunning career included playing Pussy Galore in the 1964 Bond movie Goldfinger, plus television fame and a BAFTA Award as Cathy Gale in the early 1960's hit, The Avengers. What a pleasure to meet her. A wonderful lady with lovely manners and devoid of any 'I'm a star' airs and graces.
Rolf Harris – one of Australia's most successful and eventually disgraced entertainers. Musician, song writer, actor, painter and television personality. The Queen of England sat twice for Harris to paint her. Fell from grace after he went to prison for sexual assault crimes in the twilight of his career. Part of my television interview with him ended up on cinema screens!
To detail all these encounters and any celebs that emerge from my memory banks, this story will go on far too long. So, I'll continue with a sequel or two in the future – OTHER ENCOUNTERS OF A NEWSWORTHY KIND – is there a better heading? I welcome suggestions!
COMING LATER THIS MONTH:
FURAKAWA, GIFU – little town with heart